Though the game in the penultimate round of the Dortmund tournament fizzled out in the end, it was memorable for Shakhriyar Mamedyarov's rousing attack on Ruslan Ponomariov's king, launched as early as the fifth move (!). Grandmaster Sergey Shipov provided commentary for the Russian Crestbook website.
The original Russian commentary, complete with a board where you can click on all the moves and analysis, is here. 
GM Sergey Shipov's live commentary on:
Dortmund Rd 9
SHAKHRIYAR MAMEDYAROV – RUSLAN PONOMARIOV
Hello, dear friends! This is Grandmaster Sergey Shipov continuing to commentate on the best games from the Dortmund tournament, despite the record temperatures in Moscow (today it's gone off the scale, past 35 degrees in the shade). It's already clear now that Kramnik won't manage to repeat his usual winning result. Others are laying claim to first place – Ponomariov, leading with 5.5 points, and also Mamedyarov and Le, a point behind. And it's this struggle between two direct contenders for the leadership that we're going to watch today. The Azerbaijani grandmaster is temperamental. If he comes to the game in the necessary emotional condition then you wouldn't envy his opponent – any opponent! I'm sure that today Shakhriyar will be going for a win, as after all that would put him in first place. Plus tomorrow Mamedyarov has to play black against Kramnik which, you understand, is no piece of cake. On the eve of that test it would be good to build up a supply of points. The Ukrainian grandmaster, however you look at it, would be happy with a draw. But how can that be achieved? The recipe has been known since time immemorial: play strong chess, not thinking about the result!   
1. d4 d5 2. c4 e6 3. Nf3 Nf6 No. Anything but the Catalan!   
4. Nc3 Excellent!    
4…Be7 The Queen's Gambit Declined. An ancient, solid and interesting opening.    
5. g4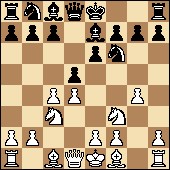 Wow! He's surprised us, and how! I thought that Shakhriyar was choosing between bringing the bishop out to f4 or g5. While he chose a mischievous, you might even say hooligan-like pawn thrust, more appropriate for three-minute blitz on the ICC. However, it can't be ruled out that it was actually in blitz games that Mamedyarov tested out the move. That time pleasantly spent on the internet is also a firing range for trying out opening ideas. True, the move's not new. In the Megabase there are dozens of games played with the same theme. But none of its exponents have yet been grandmasters of such a high calibre. The justification for the bold pawn push is the weakness of the g7 point. If the sacrifice is accepted then the white rook moves to g1 and has excellent prospects. Distracting the knight on f6 also weakens black's control over the centre – that's the second positional justification.    
5…0-0 Ruslan decided not to try and work out the subtleties – and that's the right approach. Development is always useful.     
[In the line
5…Nxg4 6.Rg1 all means of defending the knight are insufficient on account of h2-h3.]
 
[Worth a look is the game H. Tikkanen – M. Grabarczyk (a grandmaster, by the way), Borup 2008, in which there followed 5…h6 6.cxd5 exd5 7.h3 c6 8.Ne5 Nfd7 9.Nd3 Nf8 10.Bg2 Ng6 11.Rg1 Nd7 12.Qc2 h5 13.Nf4 Nxf4 14.Bxf4 hxg4 15.hxg4 Nf8 16.O-O-O Ng6 17.Bd2 Bf6 18.e4 and black couldn't deal with white's initiative.]   
6. g5   
[In the encounter L. Bergez – A. Shchekachev / Creon 2000 white chose the gambit path:
6.Qc2 dxc4 7.e4 Nc6 8.g5 Nd7 9.Bxc4 Nb6 10.Ne2 Bb4+ 11.Bd2 Bxd2+ 12.Kxd2 (if you're going to be creative, be creative!)
12…Nxd4 13.Nexd4 e5 14.Bd3 exd4 15.Rag1 Qe7 16.h4 – and white, having beautifully rearranged his pieces, began to attack. Though he didn't manage to win.]   
6…Ne4 7. Qc2 A novelty. An attempt to force the exchange on c3, which will reduce black's presence in the centre, and moreover… if white takes with the b2 pawn then the d4 point will be significantly strengthened.  All that's left is to work out what Shakhriyar had in mind if you take the g5 pawn. 
[Previously played was
7.h4 c5 8.Qc2 Nxc3 9.bxc3 Nc6 10.e3 f5 11.cxd5 Qxd5 12.Bg2 cxd4 13.cxd4 e5 14.Qb3 Be6 15.Qxd5 Bxd5 16.O-O and in the game J. Thier – A. Strzelchyk/ Liberec 2009 the players were so tired after so much creative play in the opening that they already agreed a draw.]   
7…Nxg5 Bold, principled and amazingly quickly played! Kramnik, Anand and even Kasparov himself would no doubt think quite a long time here. While Ponomariov is a young man with reserves of optimism. He's not afraid (as much as his older comrades) of his opponent's computer analysis. And boldly goes into the clinch at the board. With the move in the game he opens up the approach to his own king. It's clear that white is going to castle long and extremely sharp play will commence… But the extra pawn is something objective, material. You can touch it. While the concepts "dangerous", "risky" and "promising" are subjective and abstract.   
[Analysing the continuation 7…Nxc3 8.bxc3!? dxc4 9.e4 b5 10.a4 c6 can't be done in a few minutes. It's serious work…]   
8. Bxg5 Bxg5    
9. h4 Yet another sharp thrust. You get the impression Mamedyarov is intending to send the f3 knight to g5. His mood is clear – he wants to start a street brawl on the board, without any rules.    
[9. e3, with 10. 0-0-0 to follow, looked more solid]    
9…Bh6 Ponomariov can't let himself get distracted by the play his opponent's suggesting. He leaves his bishop on the active diagonal, interfering with white's plans to castle.   
[More appealing from the point of view of the struggle for the centre was 9…Bf6, but then there would follow 10. 0-0-0, with 11.e4! to come. At once.]    
10. e3 You can't get around castling.    
[Here playing sharply in the centre would backfire with a black attack:
10.e4?! Nc6! 11.cxd5 exd5 12.Nxd5 
  (or 12.exd5 Re8+ 13.Be2 Bg4!)
 12…Bg4! and so on]   
10…c6 In the absence of knights it's very hard for black to become active in the centre. However, there's no rush. There's a possibility of strengthening and developing without calculating variations. The d5 pawn must be defended so that the queen's knight can move to f6, taking over the role of its fallen comrade. A glance at the clocks shows: 1.24 – 1.20. By the way, after Nb8-d7 black can first play f7-f5, and only then move the knight to f6, fixing the centre for good. A second strategic idea is to place the knight on d7, take on c4 and then develop the queenside as you do in the Meran: b7-b5, Bc8-b7, Ra8-c8 and c6-c5. However, choosing between these nuances is something for the future.   
11. Ng5 My premonitions didn't fail me. After long reflection instead of the natural castling (99 out of 100 would have done it) Shakhriyar has gone for preemptive action. While the black pieces stand idle on mass he's creating a serious threat… If black doesn't take on g5 (which is logical), then white can also get in the move f2-f4.   
11…f5 Yes. Above all Ruslan liked the idea of constructing a stone wall. However it'll now be difficult for black to carry out the manoeuvre Nb8-d7-f6, on account of the weakness of the e6 point.   
[In case of 11…Bxg5?! 12.hxg5 g6 13.f4! the threat of Qc2-h2 forces new weaknesses in the black ranks.]   
[On 11…g6 there would follow 12.f4, however, in this case, without clear threats. Black could calmly complete his development – 12…Nd7]   
12. Rg1 An interesting nuance. It's still not certain that white will play f2-f4. Perhaps Mamedyarov wants to keep the manoeuvre Nc2-e2-f4 in reserve.   
12…Qe7 Defending the e6 pawn. Now it's the turn of the b8 knight.   
13. 0-0-0 The king got to the flank where it's safest.   
13…Nd7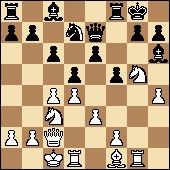 How can you break through black's defences? Ask me something easier! Besides the mentioned raid with the knight to f4 there's also the gambling enterprise f2-f3 and e3-e4. I think everyone can see how risky that is… However, Mamedyarov could do anything today! For example, he might even suddenly move the struggle to the queenside…  It needs thought. Luckily there's still plenty of time: 1.03 – 1.16.    
14. f3 I doubt anyone is surprised by that move. Shakhriyar is planning on using the battering ram e3-e4 to clear out the centre.   
14…Nf6 The arrival of another talented defender calms the black king down. Moreover, black increases his control over the most important squares in the centre. He's not at all badly prepared for 15. e4.   
15. Kb1 Useful prophylaxis – for all kinds of complications.    
[Clearly not ready, for now, is
15.e4 on account of dxe4 16.fxe4 Bxg5+ 17.hxg5 
  (or 17.Rxg5 Ng4!)
 17…Ng4! 18.Qd2 (giving the pawn up, and with a check on g5, can't be done) 18…e5! – and, a little surprisingly, black begins to attack in the centre.]   
15…Kh8 By analogy. The c8 bishop is waiting for its chance to enter play without losing a tempo by stopping at d7.   
16. Bd3   [Hard as I looked, I couldn't find any pleasant circumstances for white in the now familiar line 16.e4 dxe4 17.fxe4 Bxg5 18.hxg5 Ng4. On 19.Qd2 there again follows 19…e5]   
16…e5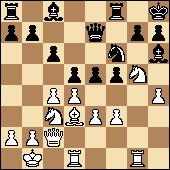 Fantastic! The players are worthy of each other. They're playing boldly and in a non-standard manner. Ruslan has found a cardinal solution to the problem of the e3-e4 blow, preempting his opponent when it comes to exploding the centre.     
[I saw no options other than the modest move 16…Bd7. That's so natural and seemingly essential (the bishop gets to the centre and frees a path for the rook on a8), that it was difficult to think of anything else. Further I looked at:
17.e4 dxe4 18.fxe4, and here for some variety you can choose not to exchange the knight on g5:
18…Ng4 19.Nxh7 Kxh7 20.exf5 exf5 21.Rxg4 Kh8 22.Rg2 with a complicated game in which, however, black is, at the very least, on an equal footing.]   
17. cxd5   
[Bad is 17. Bxf5 Bxf5 18. Qxf5 exd4 19. exd4 Bxg5 20. hxg5 (20. Qxg5 dxc4!) 20…Ne4 with simplifications in black's favour]   
17…Nxd5 Supporting the pawn on f5.   
[While after 17…cxd5 it would be white who gets an advantage with 18. Bxf5!]   
18. Nxd5 cxd5 19. dxe5 The desire to fight can't be eliminated from a true fighter.   
[The battering ram 19.e4 didn't lead to success:
19…dxe4 20.fxe4 f4 and the breakthrough 21.Nf3 exd4 22.e5 only looks pretty, nothing more – 22…g6!]
 
[It looked very appealing to switch to positional play. With 19.f4 white could have held the black bishops in an iron cage and then tried to put pressure on the queenside. Of course, if black closes the centre with 19…e4 20.Be2. Black's extra pawn there is not felt at all. The d5 point is weak and the c file will, more likely than not, end up in white's hands.]   
19…Qxe5 20. Qc5 Getting rid of all his troubles in one fell swoop. The e3 pawn is defended, the f8 rook is attacked, and the d5 pawn is lavished with care and attention.   
20…Be6 One way or another, development has to be completed. True, the move in the game makes it possible to enter an opposite-coloured bishops endgame, which seems to be absolutely equal.    
[But 20…Bd7 also promised nothing. With 21. Bc4 white would reestablish material equality. And, by the way, positional.]   
21. f4 Usefully fixing the structure.   
21…Qf6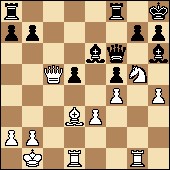 Bluntly posing the question. If you don't exchange the bishop on e6 it'll withdraw to g8, guaranteeing long-term support for the d5 pawn. Times: 0.30 – 0.55.      
22. Nxe6 It's over. Mamedyarov's supply of gunpowder has run out.   
[Playing for a win… or for a loss, was possible by moving the knight to d4 – 22. Nf3]   
22…Qxe6 Bc2 The d5 pawn can't be kept. Equality is practically inevitable.   
23…b6   
[Worse was 23…Rad8 24. Qxa7!]   
24. Qxd5 Over hasty, it seems. It was better not to immediately allow the black bishop out of its prison.   
[More accurate was 24. Qd4 Rae8 25. Rg3 – and the d5 pawn isn't going anywhere.]   
24…Qxe3 25. Bxf5 Qc5 Solidly played. So that the team won't worry, as they say. The draw suits Ponomariov – it's high time to think about it.   
[In the case of 25…Bxf4 26. Bc2! worrying moments might arise, connected with the white attack on h7.]   
26. Qxc5 bxc5 Now everything should be simple. Just suck all the life out of the position for an inevitable draw.   
27. Rd5 Bxf4 28. Rg4   
[Of course, not 28. Rxc5? Be3!]   
28…Be3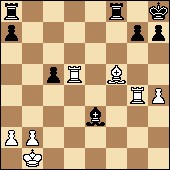 Black is still holding on to the extra pawn. But I don't think it'll do much good.    
29. h5 One pawn restrains two.     
29…Bd4 Ruslan's in an extremely comfortable situation. Without the slightest risk he can look for chances for a win. And if he can't win – it's nothing terrible.   
30. Kc2 a5 Essential. It's important to remove the breakthrough b2-b4 from white's arsenal.   
[For example, on 30…Rae8, 31. b4 would successfully follow, with complications in white's favour: 31…Re2+ 32. Kd3 Re3+ 33. Kd2 Rf3 34. Be4 – the c5 pawn is lost, and black achieves nothing.]   
31. a4 Fixing the structure. Besides, the pawn on a5 is a weakness. That might come in handy…   
31…Rf6   
[Getting through to the b2 pawn is impossible due to the weakness of the back rank: 31…Rae8 32. Re4 Rxe4 33. Bxe4 Rf2+ 34. Kd3 Rxb2?? 35. Rd8#!]   
32. Rg2 Played to maintain things. For now activity is out of the question.    
32…Raf8 33. Bd3 Once more an invitation to take on b2 and then bang out mate. Beginners' traps… The time on the clocks seems to be slipping by almost unnoticed: 0.14 – 0.17.    
33…g6 Decisively dealing with the weakness on the back rank. But at the same time new exchanges will follow, bringing the game closer to its logical conclusion.    
34. hxg6 Pushing the pawn to h6 would mean condemning it to fall. No, that's an unnecessary risk.    
34…Rf2+ 35. Rxf2 Rxf2 36. Kd1 hxg6 37. Bxg6 There's no reason to hold back from exchanges.    
37…Kg7    
[If 37…Rxb2 38. Rd7 then white will deal with black's single passed pawn without any difficulty]    
38. Bc2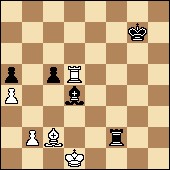 Now the pawns are equal too. 100% equality.    
38…Kf6. 39. b3 Rf1+ 40. Ke2 Rf2+ 41. Kd1 Rf1+ 42. Ke2 Rf2+ 43. Kd1 DRAW  Well, Mamedyarov did all he could. He cooked up something extremely interesting and sharp, with pepper and spices. But Ponomariov put up a really good show. He cooly joined the feast and was in time with his defence. Shakhriyar himself was forced to switch to defence and technically eke out a draw. Which he managed. Ruslan has maintained a comfortable lead in the tournament… Working for you, dear readers, has been Grandmaster Sergey Shipov. Attention! Tomorrow, 25 July, the last round takes place two hours earlier than usual – 15:00 Moscow time [13:00 CET]. Don't be late! See you!   
1/2 – 1/2