After the only rest day, GM Sergey Shipov was back commentating live on Rd 6 of the Sparkassen Chess-Meeting in Dortmund. Le Quang Liem had the white pieces against Vladimir Kramnik, and the Vietnamese player unleashed a powerful novelty.
GM Sergey Shipov's live commentary on:
Dortmund Rd 6
LE QUANG LIEM – VLADIMIR KRAMNIK
Hello, dear friends! This is Grandmaster Sergey Shipov bringing you the sixth round of the double round robin tournament in Dortmund. A strange trend is emerging. When I don't commentate on Le Quang Liem's games… he plays well! After the great disappointment in his game with Mamedyarov (which we followed live) he managed to overcome two strong, hardened grandmasters, Ponomariov and Leko. Which is, I can tell you, a great achievement. Few are up to it. In mountain climbing terms – those were 7000 m peaks. It seems that the failure in the third round paradoxically set Le free, helping him to cast off his shyness and excessive worry. He started simply to play the chess he's capable of. And it turns out the Vietnamese player is capable of a lot. He's been in no way inferior to his elite opponents. Now, in a good mood, he can begin his assault on one of the highest peaks in the world… We wish him success. By the way, Kramnik should also have an excellent mood now. A rest day after a beautiful win is the best possible remedy for all ills. An enthralling struggle awaits…      
1. d4 d5 2. Nf3 Nf6 3. c4 e6 4. g3 The Catalan. Who had any doubts! If it's the opening where black has some problems then it would be foolish not to take advantage! While current grandmasters are no match for former grandmasters at sticking to openings. They switch from one opening to another very quickly. With the computer as an assistant they can very quickly adopt what is for them a completely new opening.      
4…Be7 A calm solid line.     
[Sharper was 4…dxc4]     
5. Bg2 0-0 6. 0-0 dxc4 7. Qc2 Black's extra pawn can't be held for long.     
7…a6      
[It's well known that 7…b5 is no good on account of 8. a4 c6 9. axb5 cxb5 10. Ng5!]     
8. Qxc4 b5 9. Qc2 Bb7 The activity of white's queen allowed black to develop the queenside. He's just got one small problem remaining – the backwards pawn on c7.     
10. Bd2 Kramnik's light touch has made this the most popular move of the new century. The bishop is aiming for a5.     
[Also played is 10. Bg5, and 10. Bf4]     
10…Be4 11. Qc1 Bb7 Black isn't rushing to bring the queen's knight to d5. In that case the white bishop coming to a5 is really dangerous. While for now, on the other hand, it's premature on account of Nb8-c6!     
12. Bf4 Flexibility bordering on a lack of principles is a defining characteristic of the world's best grandmasters. In the chess sense, of course…      
12…Nd5 13. Nc3 The bishop did what it had to do, so now it can go.      
13…Nxf4 14. Qxf4 White has almost completed his development. While that's still ahead, for black.      
14…Qd6 A solid, reliable move.     
[It's not yet time to simplify play in the centre. The minuses of the move 14…c5 were shown in the textbook game R. Vaganian – U. Andersson / Leningrad (now, no doubt, many don't even know where that city's located) 1987:
15.dxc5 Bxc5 16.Rfd1 Qb6 17.Ne5 Ra7 18.Rac1 Bxg2 19.Kxg2 Bd6 20.e3 h6 21.Ne4 Bc7 22.Nc5 Bd6 23.Qd4 Bxe5 24.Qxe5 Re8 25.Rd6 and white's attack gradually led to a victory. The knight on b8 really speaks for itself.]     
15. Ne5 The simplest means of depriving his opponent of the advantage of the two bishops.     
15…Bxg2 16. Kxg2 Nd7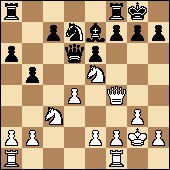 And this is the great thing about the queen on d6. It's keeping an eye on the c6 square, which allows black to develop the queen's knight.      
[The continuation 16…c5 17.dxc5 Qxc5 18.Ne4 Qb6 19.Rfd1 Ra7 20.Rac1 has been played twice (A. Khalifman – A. Karpov / Moscow 1998 and K. Georgiev – V. Iordachescu/ Valjevo 2007), but, it seems, Kramnik didn't like what you get there. The white pressure on the open files really does look strong.]     
17. Rac1 But white once more prevents the c7-c5 break. Looking in my database, it's a novelty! Judging by the speed it was carried out it was prepared at home. As it should be. Home novelties, as a rule, are much higher quality than those invented at the board.    
[Previously played was:
17.Nxd7 Qxd7 18.Rfd1 Rac8 19.Qf3 Rfd8 20.Rac1 h6 21.e3 b4 22.Ne4 Qa4 23.Ra1 Rd5 24.b3 Qa5 25.Nd2 Rcd8 26.Nc4 Qb5 27.Rac1 Bf6 28.Re1 a5 29.Re2 c5 and black equalised, L. Dominguez – M. Carlsen / Monaco 2010. However, that was not only rapid chess, but also blindfold! It's unlikely that that game gave a serious indication of the situation for analysts…]    
17…Nxe5 18. dxe5 The exchange of queens would, of course, be harmless.    
18…Qb6 So, black has prepared the c7-c5 advance. It can't be stopped.     
19. Ne4 But this is the idea. White isn't only looking at the d6 point (in case of c7-c5), but also preparing mating combinations. Every move now you have to keep in mind the white knight getting to f6. Vladimir has sunk into thought. The clocks show: 1.43 – 1.30. In broad brush strokes: a little-known Vietnamese guy has sprung a serious surprise on the best expert in the Catalan, the ex-World Champion Kramnik!     
19…Rad8 Perfectly understandable caution. Before leaving the d6 point Vladimir takes control of it with pieces. Despite all the appeal of Le's idea, it also has a strategic downside: black gets a pawn advantage on the queenside. As a result the majority of potential endings will be in black's favour. However, exchanging queens won't be simple…   
20. Rfd1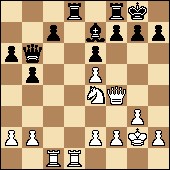 White isn't intending to give up such an important file, although black hadn't yet threatened to invade there. The first thing that needs to be looked at here is the exchange of all four rooks after 20…Rxd1 21 Rxd1 Rd8… No. It doesn't work! After 22. Rxd8+ Bxd8 23. Qd2! the white queen invades on d7, which is extremely dangerous for black. And what else can be done? If you play passively then black can expect the procession h2-h4-h5-h6. Believe me, it's no trifle.   
20…c5 Logical. There's no point in always keeping your aces up your sleeve.    
21. Nd6 Played just as decisively and quickly. It's clear that we're still within the home analysis. After the move played it's very difficult for black to deal with the white outpost on d6. On 21…f6 the cunning Le has no doubt prepared 22. Qg4!   
[After 21. b3 (it seems it's useful to fix the enemy pawn on c5) black could already start exchanging: 21…Rxd1 22. Rxd1 Rd8!]   
21…c4 A natural move, but it allows white to open the c file by means of 22. b3!? I suspect that this is the first time that the Vietnamese grandmaster has glanced at the position with interest.   
[What might he have looked at at home? Well, for instance,
21…Qc6+ 22.f3 Rd7 with the idea of piling up on the d6 pawn (the presence of a knight on this square is a temporary illusion) also with the f8 rook. But then white could switch plans: 23.Ne4! after which bad is 23…Rfd8 on account of 24.Rxd7 Rxd7 25.Nxc5! Bxc5 26.b4 Rd5 27.bxc5 Rxc5? 28.Qd4! and black is lost.]
 
[In light of the above it seems stronger to include
21…h6 22.h4, getting rid of the weakness on the back rank. And then
22…Qc6+ 23.f3 Rd7 How did Le intend to play for a win there? Only he knows.]   
22. b3 Exactly! The c1 rook enters the struggle. The prospect of the white rooks getting to the seventh rank is very pleasant. The time difference is growing inexorably: 1.35 – 1.00 The pause has grown, Kramnik just can't take a decision…  
22…cxb3 After 17 minutes Vladimir took the simplest and most obvious path.  
[The computer, with not a care in the world, recommends playing 22…g5 here, but for a human that's an unbearably difficult decision. It's not quite clear why you should weaken your king position. After all, on 23.Qg4 black can't even immediately take on d6 as the pawn on g5 will fall with check. Which means you have to play:
23…Qc5, and here white again has a wide choice. For example, the line:
24.f4 c3 25.h4 f5 26.exf6! Bxd6 27.Rxc3! Qxc3 28.Qxg5+ Kf7 29.Qg7+ Ke8 30.f7+! and white wins the queen.]   
23. axb3 A working file is opened. White's plans include putting a rook on c6 after, for instance, Qf4-e4.  
23…a5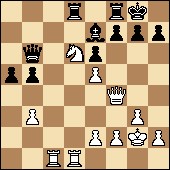 This potentially weak pawn is striving to become a passed pawn. Now on every move you have to keep an eye on the a5-a4 exchanging operation. By the way, at some point black can simply dismiss the knight on d6 with contempt and play Rd8-a8. If it's possible to advance the rook pawn further, then white can't attack in total comfort. Now white has a veeeery wide choice. But the most practical option, in my opinion, is the universal continuation 24. Qe4. After the rook gets to the sixth rank white can deal with the enemy pawns on the queenside. They need to be taken while not losing the one on d6. There are chances, and serious chances, as black's rook on f8 is doing nothing. While all white's fighters are in the field.  
24. Rd3 Also a good, flexible move, with many plans. Le is preparing to double rooks… for now it's not clear on which file. In passing he's preparing a barrier for the black passed pawn on a3. Another resource he'll have is putting pressure on f7 after Rd3-f3.  
[While here's the result of my express analysis:
24.Qe4 Bxd6 (24…a4 25.Rc6!) (24…f5 25.Qf3!)
25.Rc6 Qa7 26.exd6! (only like this, there's no point in exchanging black's passive rooks)
26…a4 27.bxa4 bxa4 28.Rc4! Qb6 29.Rb4 Qc5 30.d7 a3 31.Ra4 – white gradually captures the a3 pawn, without losing his pride and joy on d7.]  
24…a4! As the time remaining is two-to-one (1.20 – 0.40), Kramnik doesn't want to continue tricky play with lots of complex branches. In that case you'll end up in heavy time trouble! So he's going for simplifications.  
[In the line 24…Ra8 25.Rf3 a4 I found the stunning blow
26.Rc8!, which, it's true, doesn't win on the spot –
26…Raxc8 27.Nxc8 Qc7 28.Nxe7+ Qxe7 29.bxa4 bxa4 30.Qxa4 – in the given situation converting the extra pawn would be very problematic.]
[On 24…f6 as always there would follow 25.Qg4]  
25. bxa4 bxa4 Agreeing to give up material… But by no means just a pawn!   
[In case of 25…Bxd6 26. exd6 bxa4 white would continue in the same manner – advancing the pawn to d7 and trying to destroy the black passed pawn.]  
26. Qxa4 Bxd6 27. Rb3 Here's the point. The black queen is lost. But not for nothing!  
[The mistake 27. Rc6? would turn the tables 27…Qb4!]   
27…Qxb3  
[Clearly much worse was: 27…Ra8 28. Rxb6 Rxa4 29. exd6]  
28. Qxb3 Bxe5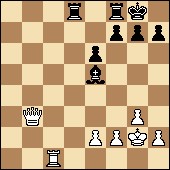 To sum up the complications: Kramnik got off easy! On just one flank white's material advantage isn't felt. Black's chances of a draw are very close to 100% Pay no attention to the extreme optimism of the computer programs that are convinced white has a large advantage. They don't understand a thing! It seems that it was in vain that the Vietnamese grandmaster rejected 24. Qe4! The time difference is no longer relevant: 1.12 – 0.37. In such extremely simple positions you can play quickly and safely.  
29. h4 A pawn storm – there are no other chances to win.  
29…g6 The pawns control the white squares, the bishop works on the black. Perfect harmony.  
30. h5 Creating a flash-point. If you allowed h7-h5 (which until the black pawn appeared on g6 wasn't possible because of Rc1-c5!), then the chances for active play for white would have been sharply reduced.   
30…Bg7 31. Rc5 A manoeuvre which is by no means strange. Black threatened Rd8-d5! simplifying the pawn structure. While now white can still play on a bit with the potentially dangerous pawn on h5.   
31…Rd7 Time to activate the sleeping rook on f8.  
32. Rb5 Rfd8 If you asked me now, what's white's plan, I'd find myself in a spot of bother. The position's crying out for some more pawn aggression. But what would that give except more exchanges? And the white king won't feel so comfortable. In any case, while black still has two rooks you can't underestimate that factor. Someone suggests advancing the pawn to h6 by putting the queen on e3? Well, black moves the bishop back to f8. And then what?  
33. Qf3 Le isn't preventing the black rook from getting to d5. It seems that he doesn't believe he has any real chances to win.  
[More aggressive was 33. e4, but in that case having to keep a permanent eye on the f2 pawn would trouble any player who had the position as white.]  
33…Rd5 Of course.  
34. Rxd5 Rxd5 35. hxg6   
[Also promising nothing was 35. g4 gxh5 36. gxh5 h6! with obvious equality]  
35…hxg6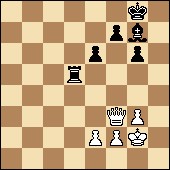 Now there are no resources left to fight with.  
36. Qe4 Bf6 37. Qf3 Bg7 38. Qe4 Bf6 39. Qf3 DRAW   
Well, a fair result. Le used a very interesting opening novelty, got an advantage and developed serious pressure. And then Kramnik showed that he has what distinguishes elite grandmasters from common mortals. They're very strong in defence! And they can use any chance to save themselves, even a barely noticeable one. Working for you, dear spectators, has been Grandmaster Sergey Shipov. All the best, and see you tomorrow!  
1/2-1/2  
Note: Sergey Shipov's commentary on Games 7 and 8 will be translated by Dana Mackenzie at: http://www.danamackenzie.com/blog/
I'll translate game 9 live here on Saturday, 24 July, at 15:15 CET: http://www.chessintranslation.com/live-game/