For the fifth round of the Sparkassen Chess-Meeting in Dortmund, Grandmaster Sergey Shipov commentated live on the Kramnik – Naiditsch game.

This is my translation of Sergey Shipov's commentary in Russian at the Crestbook site. As well as having been a top chess grandmaster and a blitz sparring partner for Garry Kasparov, Sergey is also the author of "The Complete Hedgehog" – which explains Crestbook's hedgehogesque logo…  
GM Sergey Shipov's live commentary on:
Dortmund Rd 5
VLADIMIR KRAMNIK – ARKADIJ NAIDITSCH
A good sunny day to you all, dear friends! Nature has clearly got a bit carried away in its laudable aim of warming up and brightening the northern lands. We're already overcooked! But it seems we'll have to endure this heat wave for a long time yet [translator's note: Shipov is writing from Moscow]. Until August, they say… However, you always need to look for the silver lining. A lot of sunshine means you can go swimming, there are no mosquitoes and there's a really good excuse for going on a diet. During the day you can take a siesta and there's every reason to take things easy. And how best to take things easy? The answer's obvious: with a glass of cold juice (beer, coffee, tea) you can look at your monitor, read my commentaries and enjoy the struggle between the top grandmasters in Dortmund. Today we're going to watch a game from the fifth round in which the main tournament favourite will try, at last, to win. It's time, Vladimir! It's time! The first half of the tournament is coming to an end, and the Russian hasn't yet won. He needs to have a go…
1. d4 Nf6 2. c4 e6 3. Nf3 d5 4. g3 The Catalan – almost the most popular opening nowadays. And Kramnik himself is to blame, having scored a series of glorious victories. But now it's come to pass that Vladimir's struggling on his home territory. In the second round I commentated on one such sad situation. Naiditsch works a lot on the openings. And he's studied the Catalan very deeply. I recall how in the World Cup in Khanty Mansiysk in 2009 it was in just this opening that he overcame Svidler…
4…dxc4 In this opening the c4 pawn is regularly given up. In exchange white gets better development and long-term pressure.
5. Bg2 c5 6. 0-0 Nc6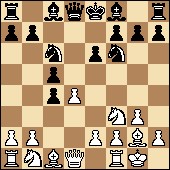 7. Qa4 One of the three main paths.
[By the way, it's worth recalling that glorious victory by Arkadij:
7.Ne5 Bd7 8.Na3 cxd4 9.Naxc4 Bc5 10.Qb3 O-O 11.Bf4 Rc8 12.Qxb7 Nxe5 13.Nxe5 Rb8 14.Qxb8 Qxb8 15.Nxd7 Qb5 16.Nxf8 Bxf8 17.Rfd1 h6 18.Bf1 e5 19.Bc1 Qb6 20.a3 a5 21.b4 axb4 22.axb4 Bxb4 23.Bd2 Bxd2 24.Rxd2 Ne4 25.Rd3 Qb2 26.Ra5 f6 27.f4 Qc1 28.Ra2 Nc3 29.Ra8+ Kh7 30.fxe5 fxe5 31.Kg2 Nxe2 32.Rda3 Qc2 33.Ra2 Qe4+ 34.Kf2 Qe3+, and white lay down his weapons, P.Svidler – A. Naiditsch (Khanty-Mansiysk 2009). True, the five-time Russian champion did still win that match]
[The third important line is: 7.dxc5]
7…Bd7 8.Qxc4 The queen personally recovers the loot. At the same time black gets the chance to at least complete his development.
8…cxd4 9.Nxd4 Rc8 In any case he's no longer suffering on the queenside, when compared to many variations in the Catalan.
10.Nc3 Nxd4 11.Qxd4 Bc5 12.Qh4 O-O And the kingside has also got there. Though the achievement does cost black a pawn.
[After 12…Qb6 in the olden days (1947!) they played 13. Na4, though 13. Bh6! is stronger, with big problems for black.]
13.Bxb7 Rb8 14.Bf3 We've taken a pawn, now let's shore things up. Standing on f3 the bishop supports the e2 pawn and graciously leaves the g2 square for the king.
14…Rb4 15.Qg5 The queen here isn't pretty, of course. But it's not a problem. The main thing is that it isn't lost!
15…Bd4 Black is building up serious pressure against the white queenside. The normal picture in the Catalan has been turned upside down. i.e. the colours are reversed.
16.Qd2 The more the merrier.
16…Qc7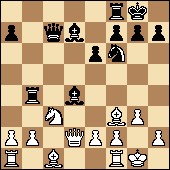 17.Nd1 And here's the novelty. It's virtue, if I understand correctly, is that in analysis the computer shows completely different moves! As a consequence, Kramnik's opponent will have to think at the board using his own head, unusually early on, and not just play out moves that were already analysed and memorised. With the move in the game white moves the knight from being under attack and, it seems, prepares not to give back the pawn…
[Out of the many moves that are played here I'll point out two:
17.Nb5 Bxf2+ 18.Rxf2 Rxb5 19.b3 Bc6 20.Bb2 Bxf3 21.exf3 Rd8 22.Rc1 Qb8 23.Qe3 Nd5 24.Qd4 f6 which is about equal, R. Schmidt – T. Nyback (Rijeka 2010)]
[And 17.a3 Rc4 18.Qd3 Bxc3 19.bxc3 Rxc3 20.Qd1 Bc6 21.Bb2 Rc4 22.Bxc6 Qxc6 23.Rc1 Rxc1 24.Qxc1 Qb5 25.Qc2 Nd5 26.Rc1 h6 27.Bd4 Nb6 28.Qe4 with a small white edge, T. Nyback – E. L'Ami (Wijk aan Zee 2010). In general if you want to grasp the given line you should have a look at the games of the fiery Finn, Tony Nyback – you won't be disappointed.]
17…Rfb8 Such a move can't be very bad. It's not out of the question that it's an inaccuracy, but it's not a mistake i.e. if white manages to rearrange his pieces and place the pawn on b3, then the pressure of the b8 rook will be neutralised. Which means that the idea of 18. Rb1 immediately comes to mind…
18. a3 But Kramnik has no need whatsoever for my advice. I'm looking at this position for the first time in my life. While he's analysed it calmly at home. The difference is colossal. The clocks are a good illustration of the differing knowledge of the two players: 1.45 – 1.21.
[But all the same I'll try to come up with something from the ex-champion's home analysis. On 18.Rb1 black plays 18…e5! with the idea of 19.b3 Bf5 20.Ba3 Bxb1 21.Bxb4 (it seems as though white has got out of it, but it's not true) 21…Ne4! 22.Bxe4 (dubious is 22.Qe1 Ng5! 23.Bg2 Bxa2) 22…Bxe4 with serious compensation for the pawn for black. The two bishops are a real strength.]
18…Rc4 A man who knows his chess can't make another move at the board.
[Although the computer strongly insists on the subtle 18…Ra4. It seems that the basis of its mechanical calculation is stopping the white knight getting out to e3 with tempo, i.e. attacking the rook. Further on in Kramnik's analysis he might have noted a line something like this:
19.Ne3 e5! 20.Qc2 Qb6 (but not 20. Qxc2 21. Nxc2 Bxb2 22. Rb1!) 21.Nf5 Bc5 22.b4 Bxb4 23.Rb1 Rc8 24.Qd3 Qe6! 25.Rxb4 Rxb4 26.axb4 Qxf5 and black is close to equalising. But, of course, all that is too complicated to play for a human seeing it for the first time.]
19. Ne3 As was to be expected.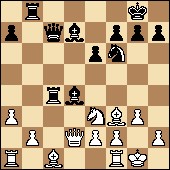 19…Ra4?! And this, more likely than not, will be something that Vladimir won't really have expected. So it is – he's started thinking. How transparent everything is in the play of the great and the good! Sit online with a good "piece of metal", with decent software – and you'll see for yourself… However, the fact that black surprisingly and on his own initiative has lost a whole tempo compared to the previous line noted can be understood even without a machine.
[In the computer he works on, no doubt, Kramnik had the branch 19…Bxe3 (the most logical)
20.Qxe3 e5 21.Bd2 (no doubt he'd also looked at the more cunning 21.b4 Rc3 22.Qd2 Rc2 23.Qd3 with the idea of 23…Rc3 24.Qb1!) 21…Rxb2 22.Rab1 and the white bishops are very effective in the struggle on two flanks.]
20. Rb1 A necessity. The b2 pawn is not only defended, but also freed up for greater matters. b2-b3 is the threat. The difference in times is becoming huge: 1.36 – 0.54. The odds on Naiditsch have no doubt sky-rocketed i.e. I wouldn't stake a dime on his winning.
20…e5 Having once taken the decision not to exchange the bishop on d4 for the white knight, Naiditsch sticks to it.
[However, in this case there wasn't much point in the move:
20…Bxe3 21. Qxe3 Nd5 (or 21…Rc4 22. Bd2 Nd5 23. Qd3 Bb5 24. b3!) 22. Qd3 Bb5 23. Qd1, and black gets nothing.]
21. b4 Once more, I agree. White, finally, breaks up the queenside. The difficulty is trying to calculate the precise lines after the reply 21…a5. In my analysis I couldn't do it. But will Kramnik manage at the board? We'll see…
[21. b3 didn't pose any threats. It's true that it also didn't let the advantage slip. Perhaps the choice was a matter of taste.]
21…a5 Posing the question bluntly! It'll be interesting to see what comes next…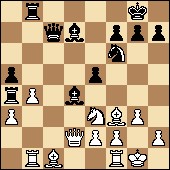 The time for general considerations has gone. Now accurate concrete decisions are essential. The thought process should be as rhythmical as a clock: "I go there, he goes there". And so on until you get to "and things are already bad for him". Kramnik's lost in thought. And that's worrying! He needed to calculate the lines before he placed the pawn on b4. Probably at that point (a move ago) he hadn't see everything he needed to, so now he's trying to catch up… But time won't stand still: 1.10 – 0.51. I'll give him a hint. White should start with 22. Qc2!
22. Qc2 No sooner said than done! There's no problem with the connection nowadays… Black can't think of taking pawns yet. The queen's under attack. Naiditsch is spending his no longer limitless time in abundance: 1.06 – 0.31. I'll give him a hint: the queen retreats are bad. He needs to exchange…
22…Qxc2 Well, well, Arkadij's also connected. Mentally, of course.
[The simplest line was:
22…Qd8? 23.Bc6! demonstrating how abject the position of the rook on a4 is.]
[Significantly more complex is:
22…Qc8 23.Bd2 Bxe3 (23…Rxa3 24.bxa5!) 24.Qxc8+ Rxc8 25.fxe3! (there's nothing wrong with being greedy) 25…e4 26.Bg2 Rc2 27.Rfd1 axb4 28.Bxb4 and, unfortunately for black, he can't win back the pawn with 28…Rxe2 on account of 29.Be7! when white wins quickly.]
[The most interesting line in my analysis was:
22…Qa7 23.Nf5 axb4 (if 23…Bxf5 24.Qxf5 axb4 25.axb4 we again see a poisoned pawn – 25…Raxb4? 26.Rxb4 Rxb4 27.Qc8+!) 24.Nxd4 exd4 (Heavy complications follow 24…Qxd4 25.Be3 Qd6 26.Rfd1 Qa6 27.Qc7 and you can't play Rc8? because of 28.Rxd7!) 25.axb4 Raxb4 26.Rxb4 Rxb4 27.Bf4 – here black wins back the pawn, but that seems only to be temporary. I doubt he'll manage to hold onto the infantryman on d4.]
23. Nxc2 Bf5 Tempting, but not the strongest continuation.
[Having formulated my comment, I didn't manage to give Naiditsch the tip in time about the strongest 23…Bc3! 24 Bb2 Bxb2 25. Rxb2 g6, after which white has great technical difficulties. There's an extra pawn, but it would be tough to play…]
24. Nxd4 Exactly! This resource, and also its consequences, had to have been seen by Kramnik before he made the move 21. b4.
24…Bxb1
[Hopeless is 24…exd4 25. Rb3 axb4 26. Bf4! Rb6 27. Bc7!, after which white keeps the extra pawn in a comfortable position.]
25. Nc6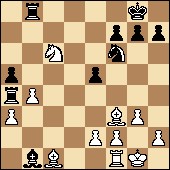 White doesn't mind losing the exchange at all. Firstly, he gets plenty of pawns for it. And secondly, it would be difficult to count as a genuine rook that creature that'll end up closed in on a4 after taking the a5 pawn with the knight…
25…Re8 Other retreats are even worse.
[While the line 25…e4 26.Nxb8 exf3 27.exf3 axb4 doesn't actually lead to the exchange of pawns on the queenside at all. White retains a passed pawn with 28.Bd2! (the b1 bishop is en prise)
28…Bd3 29.Rc1 (threatening mate on the back rank)
29…h6 30.Bxb4 and so on.]
26. Nxa5 After a little hesitation Vladimir after all played the move that was asking to be made. The clock situation means he has time to choose: 0.48 – 0.26
[In my opinion, clearly worse was 26.Bb2, as black sacrifices the bishop on b1:
26…axb4! 27.Rxb1 e4 , and here the retreat of the f3 bishop is even dangerous for white. It seems it would be time to bail out with
28.axb4 exf3 29.exf3 with close to equality.]
26…Be4 27. Bb2 It's only taken 30 moves for the c1 bishop to be developed. Well, it could be worse…
[For example, the soulless machine proposes delaying it with 27. Rd1. If it had its way the bishop would remain in its starting position for the whole game. By the way, in no way could it be called inactive – after all it defends the important pawn on a3.]
27…Bxf3 28. exf3 It's clear that for now black has no means of freeing the rook on a4. Which means that white only needs to activate his rook and, above all, his king. Then the victory will be a done deal. The general plan can be given with the notation: Kg1-b3!
28…e4 A logical desire to get rid of weaknesses.
[The subtle 28…Rc8!? with the idea 29.Rc1?! Rxc1+ 30.Bxc1 Nd5 31.Kf1? Nxb4 32.axb4 Ra1 33.Nb3 Rb1 isn't something that a tired fighter can find when time trouble's reared its ugly head.]
29. fxe4 Rxe4 Here there are subtle nuances on every move, and choosing between them costs Arkadij a few kopecks – which soon grow into an evaluation that's a full rouble against him.
[A little more accurate was 29…Nxe4]
30. Rd1 h5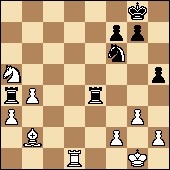 Now it's all about the white king. If he can get to the queenside then the battle will be over.
31. Rd8+ Kh7 32. Kf1 The first step has been taken. The black rook remains the main obstacle…
32…h4 Although it's still not so easy for white to convert his advantage, standing on the spot and calmly waiting to be put out of your misery is psychologically unbearable. Which is why Arkadiy is going for complications and thereby perhaps hastening his demise.
33. f3 Starting to drive it away.
33…Re7
[Useless is 33…Re3 on account of 34. Kf2 – enemies lie in wait everywhere for the rook on the third rank.]
34. g4 Very subtly played. But maybe too subtly?
[I just looked at it like a run-of-the-mill killer: no pawn, no problem! i.e. I considered 34. gxh4 And I didn't find any comforting news for black.]
34…Rc7 And now it's not so simple. The h4 pawn isn't just a guest on the white half of the board. It's a potential passed pawn! All that's needed is for the h2 pawn to fall…
35. Ke2 Step two. Now the best gift for white would be a rook exchange on d2.
35…Nd7 But Arkadiy isn't inclined to give a present to his opponent. He's already been generous enough.
36. Kd2 Step three. The general plan that was announced for white appears to be close to fulfilment. But the last moat – the c file – will be more difficult to cross than the others. As black now has some activity.
36…f6 It's useful to limit the bishop on b2. At the same time black's preparing the crafty attack Nd7-e5. For example, it would work really well after what appears to be the natural 37. Re8? The clocks show: 0.24 – 0.12.
37. f4 Played with great precision and technique. Kramnik is maintaining his advantage.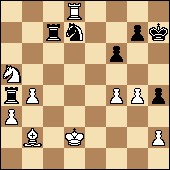 37…Nc5 An attempt to release the vice.
38. Rd4 But it turns out that it's made of tough metal.
38…Kg6 Arkadiy is trying to bring his passive king into the game, and at the same time, it seems, he's allowing his opponent to fully achieve the plan mentioned. However, it's hard to find any good alternatives.
[The exchange variation:
38…Rxa5 39.bxa5 Nb3+ 40.Kd3 Nxd4 41.Bxd4 Rc6 is only justified if white rushes to win:
42.Ke4 h3! 43.Kd5 Rc2 44.a6 Rxh2 45.a7 Re2! 46.a8=Q h2 47.Kc4 Re1! and the extra queen doesn't do white any good. The position's drawn! However, the calm move 42. h3! gets rid of any illusions. White, of course, wins.]
[It seems that 38…h3! might have retained some chances]
39. Kc3! Kramnik is accurate and merciless. Black's discovered checks are as harmless as an envious glance. The white king will make it to the queenside after all. After that the pawns on a3 and b4 will advance on their own accord.
39…Kf7
[39…Ne6+ would be followed by 40. Rc4]
[And 39…Nb7+ by 40. Nc4!]
40. f5 The control move was once more the optimal one. Black can't escape the vice-like grip.
[The value of the white pawn on f5 is revealed in the line: 40. Nc4 Ne6! 41. Re4 Ra8, as a result of which black gets some activity.]
[Also unconvincing is 40. Rc4 Ne4+, and you can't reply 41. Kb3 because of Nd2+, and after exchanges the black rook gets through to the pawn on h2.]
40…Ne4+ 41. Kb3 Nc5+ No, there's not even a hint of perpetual check. It's just a means of prolonging the pleasure of sitting at the board.
42. Ka2 Of course. It's only important that the king has arrived in the appropriate area of the board. Black can only delay, but not prevent, the advance of the white pawns. Now there's no longer any need to keep the knight on a5. After it moves away the black knight will also have to abandon the c5 square. Then the white king will move to b3, and… Black's position is hopeless.
42…Na6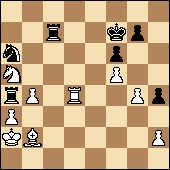 The last, despairing chance. Taking on b4 with the black knight is threatened. There's a refutation, and it's not complicated…
43. Rc4 Exactly! The point is that white wins material after 43…Nxb4+ 44. Kb3. The cowardly withdrawal of the king to b1 would have seriously extended the game. While no doubt the players are hungry. It's time to bring the struggle to an end and go and have some dinner!
43…Rxc4 Played after a painful half-hour think. I suspect that the majority of that time wasn't spent by Naiditsch on the current position! He was recalling the position after the opening and trying to work out where he went wrong… That's entirely typical in bad endings. Chess players who know what they're doing always sense well when it's no longer possible to alter the way things are going.
[So, bad was 43…Nxb4 44. Kb3 Rxc4 45. Nxc4, and black can't save both pieces.]
44. Nxc4 Nc7
[Still no good is 44…Nxb4+? 45. Kb3]
45. Na5 The door has again been slammed shut. The rook is threatened with capture.
[Also winning was the banal 45. Kb3 Ra8 46. a4]
45…Na6 The saviour is rushing to the rescue. But its efforts won't be enough.
46. Kb3 Nc5+ 47. Kc4 Ne4 48. Kb5 Nc3+ Die yourself, but save your comrade.
49. Bxc3 Rxa3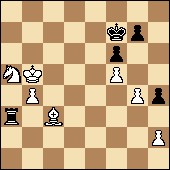 So, black has nothing more than a rook for two minor pieces and a pawn. The last illusory hope is to take the pawn on h2 and promote the passed pawn to a queen.
50. Kc4 Ra2 51. b5 But white's always a couple of steps ahead. It's all over.
BLACK RESIGNED
A convincing win for Kramnik. A tidy job! Vladimir has restored his reputation as the best expert on the Catalan, in case anyone had any doubts after the game with Ponomariov. The game was essentially simple: white accepted a pawn sacrifice in a known line, slightly improved on previous games, and slowly converted his advantage. Now grandmasters playing the given opening with black are going to have to do some analysis in order to improve on Naiditsch's play. While all of us, dear readers, are going to have to take exactly one day off – tomorrow's a rest day. This has been Sergey Shipov, whiling the evening away with you. By the way, I wish everyone a happy international chess day! That's tomorrow, the 20th July. We'll mark it by playing some aggressive blitz! All the best…
1-0