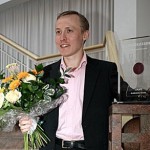 By mishanp on September 16, 2010
Fresh from his victory in Dortmund, ex-FIDE World Champion Ruslan Ponomariov gave an interview to GM Dmitry Komarov of the Ukrainian Fakty, where he talks about chess and music, the upcoming Olympiad, some of the secrets of his recent success, and a valuable preparation tip from Veselin Topalov.
Posted in Russian | Tagged Anand, computers, Dortmund 2010, Efimenko, Eljanov, Ivanchuk, Karjakin, Karpov, Komarov, Kramnik, Muzychuk, Olympiad, Ponomariov, Rammstein, Strauss, Topalov | 7 Responses
By mishanp on December 16, 2009
Kramnik gave a fascinating and controversial interview to Michael Khomich at Sports.ru after winning the Tal Memorial in Moscow.
Posted in Russian | Tagged age, Anand, Carlsen, Danailov, Elista, Ivanchuk, Karjakin, Kasparov, Khomich, Kramnik, Morozevich, style, Tal Memorial, Topalov, WC 2010 | 1 Response
By mishanp on December 4, 2009
GM Evgeny Bareev gave a long and outspoken interview to Maria Fominykh for Chesspro. Highlights included his description of why Jan Nepomniachtchi was excluded from his chess school, and how Carlsen is following in Kasparov's footsteps.
Posted in Russian | Tagged Bareev, Carlsen, Danailov, Karjakin, Kasparov, Le Quang Liem, Nepomniachtchi, Sjugirov, Tal Blitz | Leave a response
By mishanp on August 15, 2009
Anatoly Karpov gave a long interview to the Russian RIA News. The most fascinating section is his assessment of his own place in the pantheon of Chess World Champions, including his controversial opinion that Anand and Topalov would have been unable to achieve the same success without computers.
Posted in Russian | Tagged Alekhine, Anand, Aronian, Bogoljubov, Botvinnik, Bronstein, Capablanca, Carlsen, Chigorin, computers, Euwe, FIDE election, Fischer, Ilyumzhinov, Ivanchuk, Karjakin, Karpov, Kasparov, Keres, Korchnoi, Kramnik, Lasker, Leko, Petrosian, Rubinstein, Spassky, Steinitz, Tal, Topalov | 5 Responses